It takes but a 20-minute stroll through any area of Seattle to realize you're in the midst of a world-class city. As the home of the ubiquitous Starbucks, tech giants Microsoft and Amazon, and aviation pioneer Boeing, there is little doubt about Seattle's business bonafide.
And, culturally speaking, in more normal times, an afternoon spent touring the city's most notable landmarks the Space Needle, Pike Place Market covers the city's destination-worthy aesthetics.
But these are not normal times, and Seattle is so much more than its financial bellwethers or touristy hotspots. Although many of the Emerald City's main attractions remain closed, Seattle's greatest attribute is not: the outdoors.
Befitting a region with a host of influences and a bevy of outdoor pursuits, there's a lot of joy and adventure to discover in one of America's greatest cities even in difficult times. So what better time than the present to take a trip through Seattle's great outdoors?
Let's explore the best parks, beaches, and outside spaces in Seattle.
Kerry Park
We begin our list with arguably one of Seattle's most famous and widely-known outdoor spaces: Kerry Park. Located on the southern slope in Lower Queen Anne, this small, 1.26-acre space offers perhaps the best panoramic view of downtown Seattle, the Space Needle, Elliot Bay, and Mount Rainier.
Aside from the views it provides it may very well be the most widely used photography point in the city the park offers a charming respite from hectic city life. At its heart is a 15-foot high steel sculpture called Changing Form. It's also surrounded by one of Seattle's most charming neighborhoods and a standout collection of homes.
Olympic Sculpture Park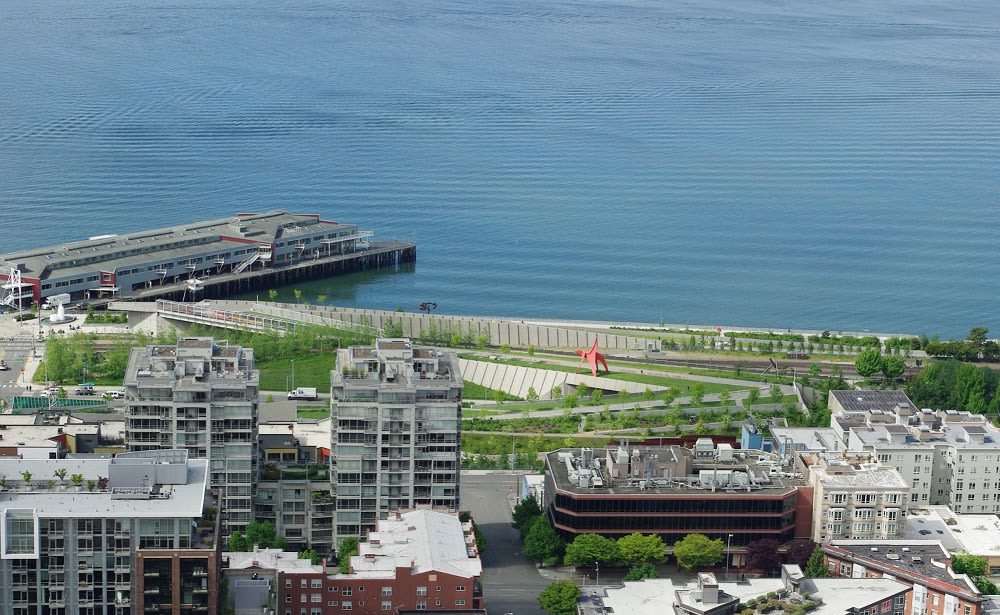 Seattle's stunning natural topography lends itself to some rather spectacular settings. However, one of the city's most enchanting parks is entirely man-made. The 9-acre Olympic Sculpture Park opened in 2007 as an extension of the Seattle Art Museum (the organization also oversees the greenspace).
Formerly home to an oil and gas company, the grounds later became contaminated. Today the free-admission public space is anything but an eyesore. The park houses a 20+ piece outdoor sculpture museum (including rotating exhibits), a beach tier along Puget Sound, an amphitheater, pavilion, and cafe, and a 2,200-foot long walking path. The more than $30 million project is a genuine marvel of imagination and ingenuity and has proven a favorite of locals and visitors alike.
Park in the Sky
At first glance, the 40-story Fourth and Madison Building downtown is far from your standard outdoor attraction. Formerly known as the IDX Tower, the 512-foot tall structure is bold and modern and extremely hard to miss. It's also office space. Lots of it. And nothing about a high rise in the middle of a major city screams outdoor oasis.
Head up to the seventh floor, however, and you'll discover one of Seattle's best-kept secrets:
the 7th Floor Patio. A peaceful garden retreat from the boisterous city streets below, the park space is open to the public and includes tables and chairs and lush, well-maintained landscaping, including a lawn and mature shade trees.
Seattle's Beach Life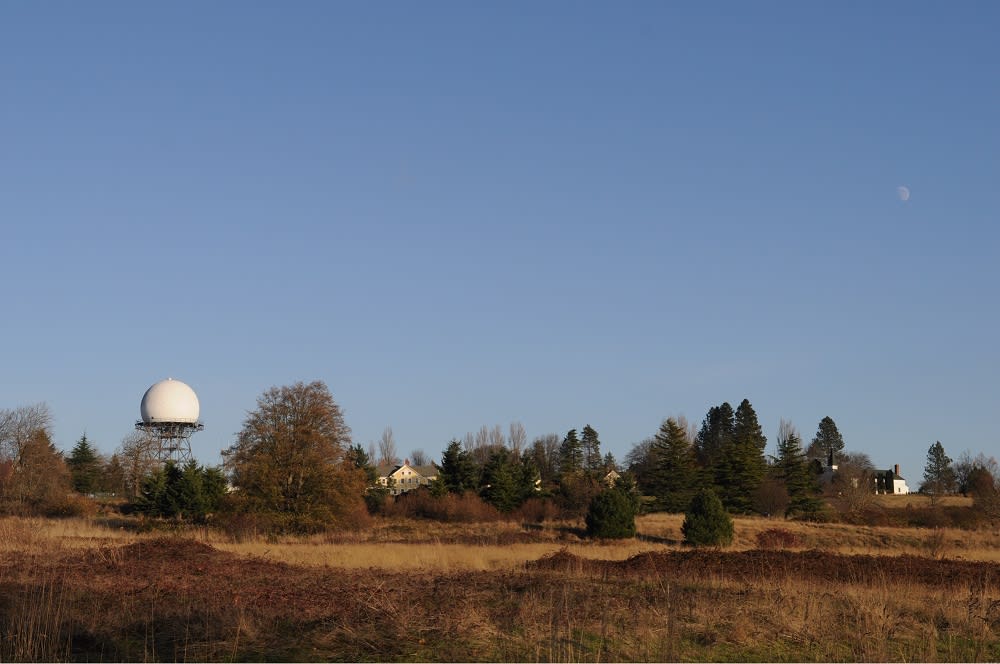 Okay, so maybe it's not Malibu or Miami Beach, but Seattle is a city with roughly 200 miles of shoreline. And with a shoreline comes one of the area's most surprising finds for newcomers: beaches. The city features several popular waterfront spaces including:
Golden Gardens Park, located in Ballard, is a Seattle favorite. At more than 80 acres, it has plenty of space to spread out and features tree-lined hiking trails, a dog park, and volleyball nets and fire pits.
Discovery Park is 500 acres of pure bliss, with outstanding views of the Seattle skyline and the Cascade and Olympic mountains. The West Point Lighthouse is an underrated, Instagrammable photo op at the westernmost point of the park.
For those trekking in West Seattle, the two-mile-long Alki Beach Park is the ideal spot for (what else?) long walks on the beach. The vibrant area features several amenities, including volleyball courts, a playground, and close proximity to many quaint beachside eateries.
If you want to hang with friends and family but do so from a safe, socially responsible distance, any of the above will do.
Off the Beaten Path
If, however, you're looking for some peace and quiet Seattle's hidden gems, if you will there are also a few additional beaches and piers that either by their location or their non-beachy attributes serve those seeking a different bayside or lakeside experience.
Andover Place is the definition of off the beaten path it's a tiny sliver of park space that offers a private sandy spot to relax. If, of course, you can find it along Beach Drive in West Seattle.
At the northernmost point of Alki Beach Park is the Alki Beach Pier and Luna Park. A quiet, relaxing place along the popular Alki Trail, the park features clear panoramic views of downtown Seattle, Puget Sound, and the Olympic Mountains. The absolute best time to visit is at sunset.
Lincoln Park is not a hidden gem, per se. It's a big space with nearly five miles of walking paths and four miles of bike trails, but also a hundred little spots both near the shoreline and away from it to get lost for the day.
Grassy and tiered, and more neighborhood park than waterfront oasis, the 2-acre Denny Blaine Park along Lake Washington offers a slightly different beach-going experience. But be forewarned, it's not for the shy or modest it's known as Seattle's preeminent nudist park.
Shoreline Street Ends
Speaking of Seattle's water-centric culture, the city celebrates its heritage through public right-of-way spaces called shoreline street ends. Ultimately a city-sponsored program to provide access to Seattle's vast waterfront, there are roughly 150 such spots scattered throughout the city, offering all manner of recreational opportunities.
You can find shoreline street end beaches at the ends of East Highland Drive, East Harrison Street, and South West Barton Street. Native plants enhance the area around East Prospect Street. Pocket parks sit at the shoreline street ends for East Allison Street, S Charles Street, and 28th Avenue Northwest.
Unusual Finds and Fascinations
When venturing outdoors in Seattle, parks and beaches are not the only attractions. One should never overlook the unorthodox or random oddities scattered across this eclectic city. As you might expect from the place that birthed both trendy, establishment-approved coffee houses and rough-around-the-edges anti-establishment grunge music, Seattle has plenty of odds and sods.
The Fremont Troll is a 6.5-ton concrete troll statue underneath the Aurora Avenue Bridge. With a Volkswagen Beetle clutched in one hand, it's the definition of an unexpected photo-op.
There are many art installations at the National Oceanic and Atmospheric Administration Center, including a literal "Sound Garden" that harnesses the wind to create music from its twelve 21-foot tall steel structures.
If structural oddities are your thing, then another worthy outdoor stop sits across Lake Union in Northlake. The site of a former oil plant location, Gas Works Park is a 20-acre park of towering rusting silos, expansive green spaces, and a play barn.
And for the real-world version of Pixar's Up house, visit the Edith Macefield House in West Woodland. It's a century-old farmhouse that stands decrepit but ever defiant with modern development on all sides.
Pioneer Square and Waterfall Garden Park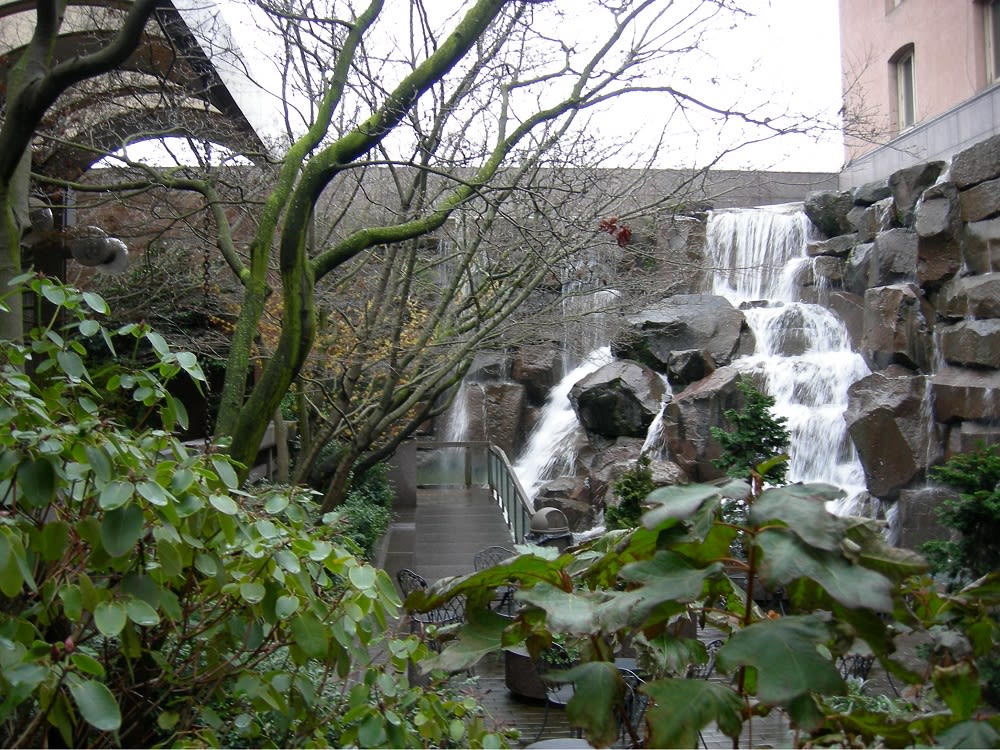 Pioneer Square is one of Seattle's most popular places for visitors. The original downtown footprint for Seattle falls on many travelers' must-do list. Although the outstanding shops and restaurants and art galleries dotting every corner of the 3-acre neighborhood might currently be delivery or take-out only, and the underground tours of the city's colorful past temporarily closed, its stunning building facades are not.
The incredibly well-preserved Classic Victorian and Romanesque Revival architecture dates back to the 1800s. A fair bit of your day can be spent touring and photographing the intricate and ornate designs.
A blink-and-you'll-miss-it proposition in Pioneer Square is the tiny, tucked-in oasis of Waterfall Garden Park. Featuring a 22-foot man-made waterfall, a Japanese Garden, and very limited hours, this pocket park is ideal for quiet reflection. It holds historical significance as the spot where the United Parcel Service was born.
To be sure, this is only a partial list. There's an endless array of spectacular outdoor spaces in and around Seattle. Even better is that even amid the current coronavirus pandemic, all of the above spaces remain open to the public.
Are you interested in buying or selling in downtown Seattle? Or are you seeking more information on Capitol Hill homes for sale or Queen Anne real estate?
Contact Hal and Jeff Homes
at Compass Seattle today. It would be our pleasure to help you navigate the best of Seattle's luxury real estate market.