From Simple beauties to More Intricate Constructions, Seattle architecture is as Diverse as it is Stunning
If you're considering planting down roots in Seattle, the first thing to consider is what type of architectural style resonates with you. From Seattle Box to Tudor, the city has a wide variety of architectural styles that comprise this adored city. Here are four of the most popular.
1. Seattle Box
This style was first described in 1907 and was built from the early 20th century until the 1940s. Seattle box is a regional style of oddly unique to Seattle and elsewhere in the . It has been especially popular in neighborhoods such as Queen Ann and Beacon Hill and was so popular that some blocks of Seattle's Capitol Hill neighborhood were exclusively developed around 1910 almost entirely according to this plan.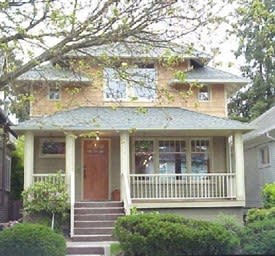 Also called Four-Square, the features a simple two-to-three-story structure. What is unique about this home is the layout. The home features four main rooms: a living room, kitchen, dining room, and foyer on the first floor, with three or four bedrooms located on the second floor. The Seattle Box gained momentum with builders and home-buyers in the early 1900s after it was included in architect Victor Voorhees' book of designs. Now, multiple Seattle Box houses even serve as historical landmarks in this eclectic city.​​​​​​​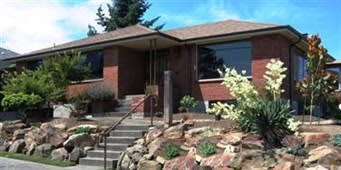 2. Mid-Century Modern

Mid-century modern (MCM) is an American design movement in interior, product, graphic design, and architecture that reached peaked popularity from 1945 to 1969 and has supplanted the craftsman style in Seattle as a most desirable house style over the past 10 years. This style took the moniker of MCM as early as the mid-1950s as part of the Modernism movement and became known for clean, simple lines, honest use of materials, and a general lack of decorative embellishments.
The mid-century modern movement in the U.S. was an American reflection of the and movements in Europe. This elaborate style was popular during the 1950s and '60s and is common to see in the Magnolia, Seward Park, View Ridge, and West Seattle neighborhoods.

This style emphasized creating structures with ample windows and open floor plans, with the intention of opening up interior spaces and bringing the outdoors in. Many Mid-century houses utilized then-groundbreaking architectural design that eliminated bulky support walls in favor of walls seemingly made of glass. Function was as important as form in Mid-century designs, with an emphasis placed on targeting the needs of the average American family. The style featured "cathedral" ceilings often built of exposed wood, spacious decks, open floor plans, large fireplaces, picture windows, and brick or stone veneers.
3. Craftsman Bungalow
If you take a stroll through Wallingford, Ballard or Ravenna, you will notice a prevalence in what is referred to as the . A bungalow is primarily thought of as a small house or cottage that is either single-story or has a second story built into a sloping roof (usually with dormer windows) and may be surrounded by wide verandas.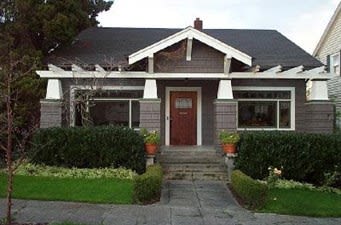 The first house in England that was classified as a bungalow was built in 1869. In America, it was initially used as a vacation architecture and was most popular between 1900–1918, especially with the Arts and Crafts movement. This unique style was built primarily into the 1920s and '30s in the Seattle area, where it has been well-loved by Seattle residents. With the ascendancy of a middle-class Colonial Revival, Arts & Crafts ideals lost favor, and eventually, "bungalow" become a derogatory label (though it has since been rediscovered and cherished in Seattle over the past 25 years).

Most bungalows are low and spreading, not more than a story-and-a-half tall, with porches, sun porches, pergolas and patios tying them to the outdoors. Look for artistic exaggeration in columns, posts, eaves brackets, lintels, and rafters. Inside, too, you'll find ceiling beams, chunky window trim, and wide paneled doors. Horizontal elements are stressed.

​​​​​​​In a complete departure from Victorian interior decoration, bungalow writers frowned on the display of wealth and costly collectibles. Rather than buying objects of obvious or ascribed value, the homeowner was told to look for simplicity and craftsmanship: "a luxury of taste substituting for a luxury of cost." It became almost an obsession with bungalow builders to see how many amenities could be crammed into the least amount of space. By 1920, the bungalow had more space-saving built-ins than a yacht: Murphy wall beds, ironing boards in cupboards, built-in mailboxes, telephone nooks.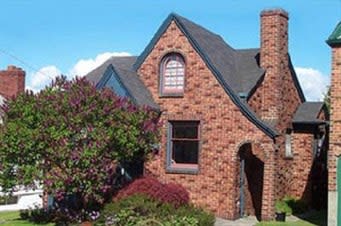 ​​​​​​4. Tudor
This design is one of the most easily recognizable. Vaguely resembling an English manor, this design almost looks as if it was pulled out of a storybook. These homes come in all sizes, and while smaller versions might have a quaint storybook appearance to them, larger Tudors more often embody the romantic ideal of an English country manor.
​​​​​​​

That charming, old-world feel has appealed to many Americans over the last century and a half. As an architectural trend, Tudor style homes originated in the United States in the mid-19th century and continued to grow in popularity until World War II. The Tudor style movement is technically a revival of "English domestic architecture, specifically Medieval and post-Medieval styles from 1600-1700."

style is characterized by a steeply pitched roof, often with multiple overlapping, front-facing gables (the triangular portion of the roof) of varying heights. The majority of their exteriors are brick, but they're accented (often in those triangular gables) with decorative half-timbering: essentially a mock frame of thin boards with stucco or stone filling in the spaces between the boards. They often have decorative chimney pots, a stone or metal extension at the top of the brick chimney. Windows are tall and narrow with multiple panes—sometimes rectangular, sometimes diamond-shaped. Large groupings of windows are common.

Interiors featured coved and tray ceilings, a lack of wood trim around windows, and plaster fireplaces without mantles.

The Tudor style quickly became popular during the 1920s and '30s, fizzling out after World War II when the focus turned to constructing affordable housing. Tudors were generally expensive to build and mostly appeared in wealthy suburbs. During the height of the colonial revival period (1910-1940), this style comprised 25 percent of the suburban houses built. Magnolia and Queen Ann are particularly well represented with this fun and romantic style.

If you are looking to explore Seattle luxury real estate, today. As some of the most sought-after realtors in the area, Hal and Jim serve a wide range of neighborhoods, from to . Their expertise will help find a property that's perfect for you.


​​​​​​​